Please join us for our next RailFun night
Friday, January 21, 2022
Presentation: Lineside Signals by James van Bokkelen
Notice: An indoor mask mandate for all attendees, regardless of vaccination status, is in effect per requirements from the Town of Dedham and the MBCC.
James will present a computer slide show about engineering, designing and building automatic block and interlocking signals for his DC/DCC layout. The signals don't require a computer, can be installed location by location and are debugged with a voltmeter. The presentation covers the selection and use of commercial components, how to implement basic ABS and interlocking logic, communication between signal locations and discussion of modeling searchlight, mast and dwarf signals following B&M / MEC practice and rule books. James will then go into detail about construction and details of a searchlight signal. He will bring along examples of parts used to build the signals, and one or more signals with the plug-in mount.
Time permitting Pete Watson may give his real-life experience in interpreting signals he has seen while engineering trains.
Email Railfun Coordinator Andy Reynolds if you have any questions.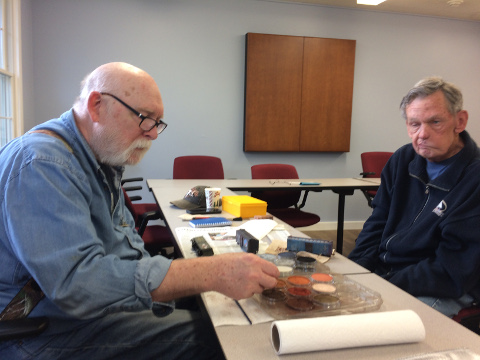 Learn New Skiils
Learn New Skiils Like Weathering Freight Cars
Learn New Skiils - Using Static Grass
Put It All Together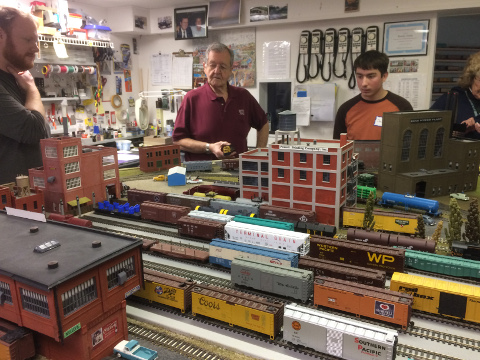 Visit Member Layouts - Randy Child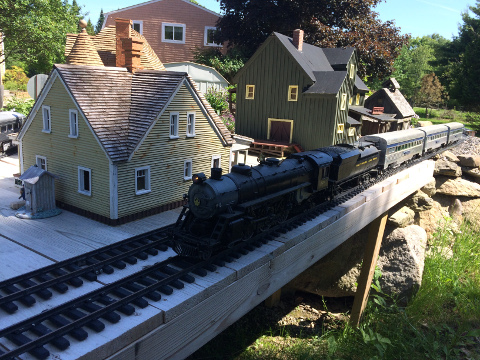 Visit Member Layouts - Carl Churchill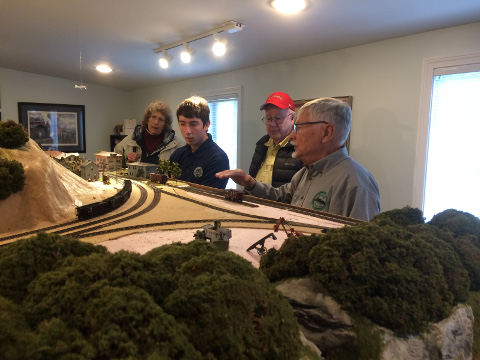 Visit Member Layouts - Russ Norris
Visit Member Layouts - Bob Macauley
Meet New Friends and Get Inspired
Meet New Friends and Get Inspired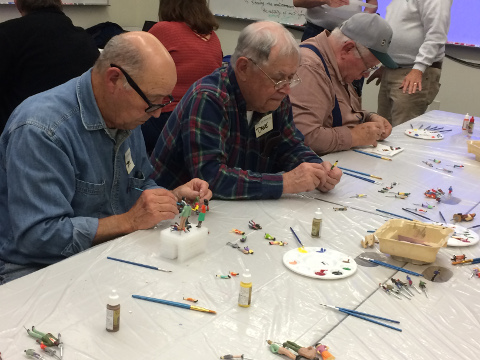 Meet New Friends and Get Inspired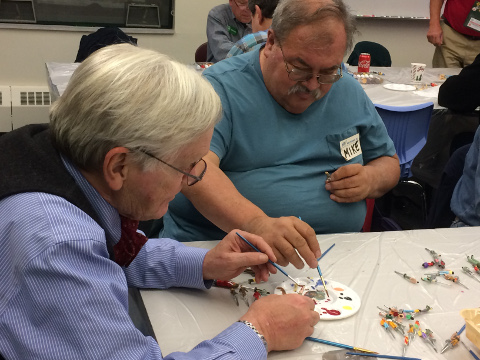 Meet New Friends and Get Inspired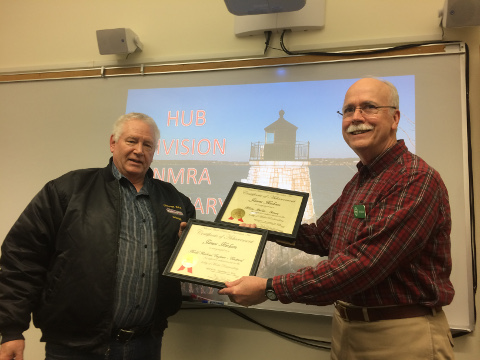 Celebrate Achievements - Jim Kerkum
Celebrate Achievements - Malcolm Houck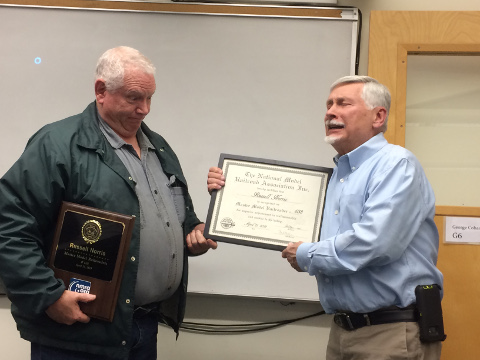 Celebrate Achievements - Russ Norris - MMR!
Review Past Clinics
See recordings of our past clinics

About RailFUN
The HUB Division formally established Railfun nights in 1996. Railfun is an informal get-together that offers presentations and hands-on clinics teaching a variety of modeling techniques or prototype railroad topics. The evening is open to both members and the public; we generally have about 40 attendees. Railfun is a time to socialize, meet new members and potential new members, discuss hot model railroading topics, help each other with our favorite tips, and is, as the name implies, just a lot of fun!
Some hands-on Railfun clinics held over the past few seasons included making trees, weathering freight cars, making rock formations using rock molds and geodesic foam, and an entire multi-part series on construction and scenicking a diorama. We've had presentations on the construction of the Hoosic Tunnel, the latest in DCC sound technology and products, and what it is like to be a train engineer, presented by one of our members who is an engineer on the commuter rail. Railfun clinics and presentations are usually given by HUB members and sometimes by invited clinicians, but anyone can give a clinic. Contact the Railfun Night Coordinator if you would like to schedule yourself to present a clinic.
Railfun is a free event. However, we do ask for a $3 donation per adult, which buys you refreshments plus all the parts and materials for the clinics.
Our current Railfun Coordinator is Andy Reynolds, should you want additional information or have questions not answered by this page. He is also the point of contact if you would like to schedule yourself to present a clinic.